Private/ Small Group Sessions
Private and Small Group Sessions
Private sessions are available for one on one or small groups with SCS Head Instructor John Black. John has quite a few years experience teaching and training conflict management, martial arts, adventurous skills (such as climbing and Japanese weaponry), and in philosophy, life skills and cognitive behavioral therapy. Sessions are tailored to each individual or group based on their needs and goals. Whether that be confidence and skill in conflict management, improvement in martial arts and physical culture as well as health and fitness, or personal development through talking and cognitive behavioral therapy. Get in contact via email or phone if you'd like to discuss private sessions for yourself or a small group.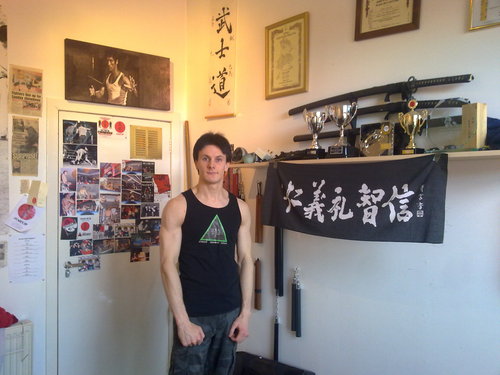 John at the back wall of his Dojo, next to his fight trophies, weapon collection and fight picture wall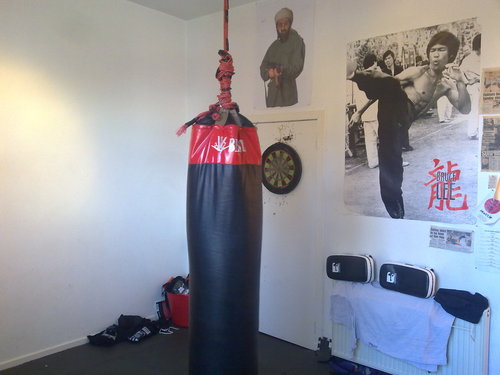 The home dojo has hanging for a large punchbag, and is equiped for Pad work, Sparring, Ground defence and Weapons training. The matted area is approx 3M by 4M making it ideal for one on one tuition. The matting is also excellent for takedowns and other ground techniques, cushioning all impact.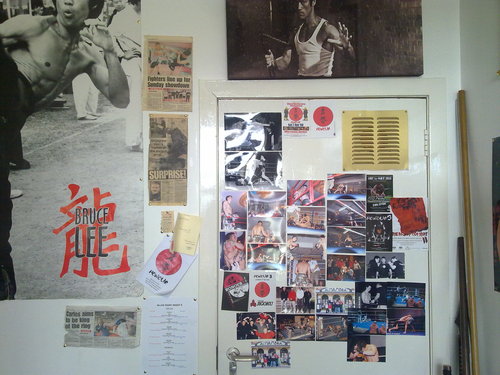 Fight and news pictures and clippings. You can also see the obvious inspiration from Bruce Lee

Private tuition is highly recommended for those wishing to get to grips with their personal safety, and is an excellent way to access the wealth of experience and knowledge John has on martial arts, combat and fitness training. Private tuition can be booked via email at: streetcombatsystem@hotmail.com or by texting or phoning 07761 462 560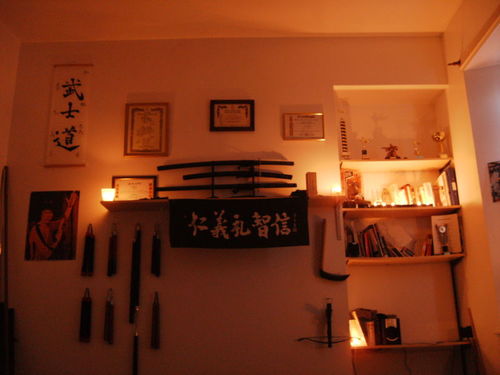 Candles lit for meditation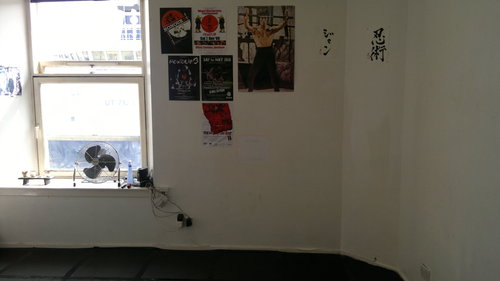 Back wall and part of right wall of Dojo. Promotions posters for events that John has fought in on the wall. The first Kanji is John's name in Japanese, the second to the right of it reads "Ninjitsu" one of John's favourite arts.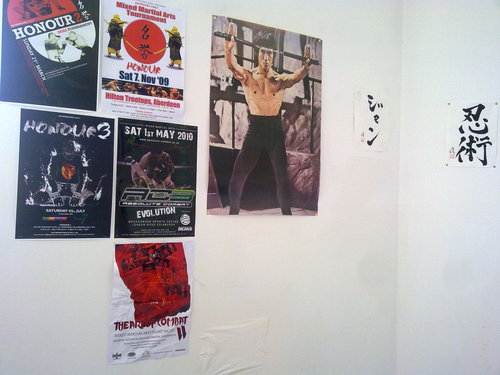 Close up of fight events posters and Kanji.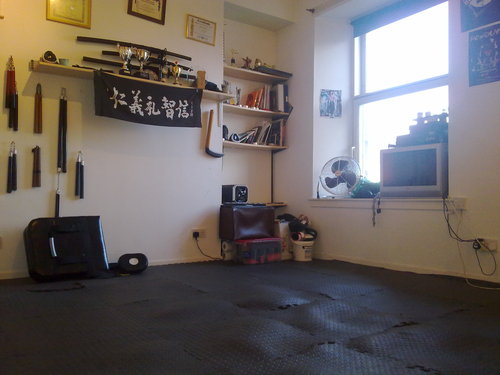 Heavily matted floor for throws and grappling practice